Features
• Good CMRR: typ. 50dB at 60Hz & 20kHz
• Excellent audio performance
– Wide bandwidth: > 8.6 MHz
– High slew rate: 12 V/µs
– Low distortion: 0.0006 % THD
– Low noise: -106 dBu
• Precise internal resistor matching: typ 0.5%
• Low Current: 2 mA
• Three gain versions: 0 dB, ± 3 dB, & ± 6 dB
• Industry-standard pinout
• Low cost
Datasheet Download
Datasheet Download
1250-Series Datasheet (133 kB)
Balanced Line Receiver ICs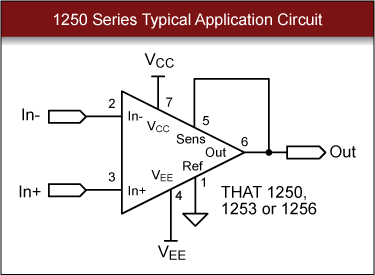 Applications
• Balanced Audio Line Receivers
• Instrumentation Amplifiers
• Differential Amplifiers
• Precision Sum and Difference Networks
• M-S Matrices
• Precision Rectifiers
• Precision gain amplifiers
• Current Shunt Monitors
Description
The low-cost THAT 1250-series of precision differential amplifiers are designed primarily for use as audio balanced line receivers. Fabricated using THAT's proprietary DI process, the THAT 1256 is pin compatible with the THAT 1246. the Texas Instruments INA137, and Analog Devices SSM2143, while the THAT 1250 is pin compatible with the 1246, INA134, and SSM2141. The THAT 1253 is pin-compatible with the 1243. The parts are available in models which can be configured as differential amplifiers for 0dB, +/-3dB, and +/-6dB gain.
The 1250-series achieves its low cost by eliminating laser trimming compared to its pin-compatible relations. As a result, the 1250-seriues offers less common mode rejection and precision in its resistor ratios compared to the 1240-series (and equivalents from other manufacturers).
Key Specifications
(see
1250 Series datasheet
for complete specifications)
Parameter
Symbol
Conditions
Typical
Units
Gain
 
THAT 1250
THAT 1253
THAT 1256
0
± 3
± 6
dB
Common Mode Rejection Ratio

CMRR

 

50

dB

Input Voltage Range
—

Differential – equal & opposite swing

1250
1253
1256

21.5
24.4
27.5

dBu
Output Noise
—
BW = 20 kHz
1250
1253
1256
-103
-105
-106
dBu
Total Harmonic Distortion

THD

—
0.0006

%

Power Supply Voltage

—

—
± 3 to ± 18
V

Supply Current

—
—

2.0

mA

Supply Rejection Ratio
—
—
90
dB
Small Signal Bandwidth
—
RL = 2kΩ, CL = 10pF
1250
1253
1256
8.6
12.2
18
MHz
Capacitive Load
—
—
200 (Max.)
pF
Packaging/Pricing/Samples
Model
Gain
Package
Order Number
Pricing (1000)
Min Order Quantity
Reference
1250
0 dB
8 pin DIP
1250P08-U
$0.95
50
Request Samples
8 pin SO
1250S08-U
$0.69
98
8 pin SO Tape & Reel
1250S08-UR
Contact us
2000
1253
-3 dB
8 pin DIP
1253P08-U
$0.95
50
8 pin SO
1253S08-U
$0.69
98
8 pin SO Tape & Reel
1253S08-UR
Contact us
2000
1256
-6 dB
8 pin DIP
1256P08-U
$0.95
50
8 pin SO
1256S08-U
$0.69
98
8 pin SO Tape & Reel
1256S08-UR
Contact us
2000
All 1250-Series parts are RoHS compliant.

Minimum order quantity (MOQ) is one tube or one reel. Parts must be ordered in multiples of the MOQ. Samples are available to qualified applicants. Pricing is subject to change. ICs designated -UR are available on tape and reel for a modest increase in price and require an extended lead time. Please contact our sales department for pricing and current lead time.
Design Notes (as PDF files)
Design Note 133   Achieving Optimum CMRR with Differential Input A/D Converters (53k)
Design Note 140   Input and Output Circuits for THAT Preamplifier ICs (244k)
Additional Resources
Line Receiver Selector
– A side by side comparison of the features and specifications of our input stage ICs.
Part Number Cross Reference
– A chart of THAT part numbers cross-referenced to other IC manufacturers.
Harsh Environment Packaging
– TT Semiconductor repackages THAT Corporation's IC products in ruggidized plastic for the medical, aerospace, defense, and heavy industrial marketplaces.
1240 Series Material Data Declaration Sheet
Material Data Declaration Sheets (MDDS) disclose the hazardous materials in our integrated circuits as required by the European RoHS directive.