THAT Corporation to Offer InGenius® Technology
— under exclusive arrangement with Jensen Transformers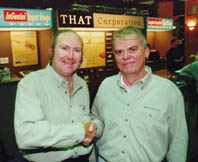 Marborough , MA — Amidst the buzz of the 103rd AES Convention, Les Tyler, president of THAT Corporation and Bill Whitlock, president of Jensen Transformers signed an agreement granting THAT Corporation exclusive rights to sell and sublicense the industry's first practical, transformer-less solution to hum and buzz interference — the InGenius high-CMRR balanced line receiver. The InGenius circuit topology provides audio designers the means to build effective, low-cost balanced input stages that truly reject common-mode interference, even with unbalanced source impedances.
The circuit, developed by Bill Whitlock of Jensen Transformers and covered under U.S. Patent No. 5,568,561, uses a unique common-mode "bootstrap" circuit, in conjunction with a conventional active differential amplifier, to raise common-mode input impedances to those of a high quality audio input transformer. The increased common-mode impedances allow InGenius circuits to be very tolerant of source impedance imbalances — a primary cause of unacceptable interference pickup with ordinary input stages.
Existing active or electronically-balanced line receivers, which can eliminate hum or buzz caused by poor grounding, don't address the real-world problem of unbalanced source impedances. As a result, existing input stages often don't live up to their specifications when placed in real products and in real situations where they are usually driven by sources with impedance imbalances ranging from a few ohms to a few tens, or even hundreds of ohms (resulting not only from imbalances in the source itself, but from cables, connectors and other external factors).
Up until now, transformers, with their extremely high cost and added weight, have been the only practical solution to this problem. Inputs built using InGenius technology, however, maintain their common-mode rejection properties, even when driven from single-ended outputs. With InGenius technology, designers can obtain transformer-like interference rejection at a fraction of the cost.
For example, a conventional input stage which might have 90 dB of CMRR when driven from an ideal source, will exhibit only 60 dB of CMRR with a mere 10 ohms of source imbalance, and will degrade to 24 dB when driven with 600 ohms of source imbalance (typical of a balanced stage fed by a single-ended source). A 90 dB CMRR input stage designed with the InGenius circuit topology, on the other hand, will maintain essentially the full 90 dB of CMRR under those same conditions.
"The InGenius solution combines the interference rejection of a transformer input stage, with the transparency and low cost of an all-electronic circuit," said Les Tyler, President of THAT Corporation. "Bill Whitlock's development solves a long-standing, thorny problem for audio design engineers."
Bill Whitlock, developer of the InGenius technology, responds, "THAT Corporation has a tremendous amount of experience in both licensing and in audio IC development. They are the perfect partners to bring the InGenius input stage to the pro audio industry."
For complete information on THAT's InGenius technology, visit the 1200 Series page, download a copy of the 1200 Series datasheet (in PDF format), or contact THAT Sales at info@thatcorp.com
About THAT Corporation
THAT Corporation, founded in 1989, designs and sells high-performance analog integrated circuits for professional audio manufacturers. THAT's ICs include analog input and output stages, digitally controlled low-noise preamplifiers, Analog Engines® and its original line of voltage-controlled amplifiers (VCAs) – all used throughout the pro audio industry. The company also licenses patents, trademarks, and other intellectual property to the TV broadcast and reception industries. Licensed products include the dbx-tv® Total™ series of audio enhancement technology and digital implementations of legacy TV audio receiver standards. The company is headquartered in Milford, Massachusetts, with offices in Milpitas, California.
For more information, contact:
THAT Corporation, 45 Sumner Street, Milford, MA 01757-1656 , USA
Telephone: +1 (508) 478-9200; Fax +1 (508) 478-0990
Email: More Information
Editorial Contact:
Ken Nevard, IC Marketing Manager
Tel: +1 (508) 478-9200 x108
Email: Editorial Contact