THAT Corporation Introduces 2-channel Digital Preamplifier Controller
THAT5263 offers greater integration and lower power for low-noise digitally controlled audio preamplifiers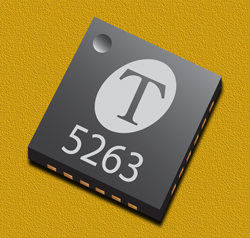 Milford, Mass. – THAT Corporation, a leading provider of high-quality audio ICs, today announced the availability of the THAT5263 – a wide-range digital preamplifier controller IC intended for use with low-noise differential analog audio preamplifiers. The 5263 operates from ±5 to ±17V analog supplies, offers 3dB steps from 0 to 51dB gain, and supports input signals up to +29.6 dBu.
"Paired with one of our world class family of analog preamps, the 5263 offers a compact digitally controlled mic preamp system solution that delivers pro audio performance at a very competitive price," said Ken Nevard, IC Marketing Manager, THAT Corporation. "The 5263 sets new standards for low power consumption, an increasingly important factor in today's product designs."
Key features of the 5263 include:
• Wide Gain Range: 0 dB to 51 dB in 3 dB Steps
• Wide Supply Range: ± 5V to ±17V
• Wide Input and Output Swing: +29.6 dBu
• Low Power: 48mW @± 15V Supplies (for 2 Channels)
• Low THD+N: 0.003% @ 24 dB Gain
• Daisy Chainable SPI Interface
• Small 5mm x 5mm QFN24 Package
The 5263 controller works ideally with THAT's family of differential analaog preamps, such as the 1583 and new 1580. But, it also works well with discrete preamp designs, allowing manufacturers to customize their circuit to achieve the optimum sonics and price point for their market.
The 5263 is available immediately from THAT Corporation and its authorized distributors. Pricing pricing starts at $3.52 at 1k pieces. A demonstration board is available to simplify and speed up evaluation.
To learn more about our Preamplifier Controller ICs or to order 5263 samples, click below:
A quick overview of our entire Preamplifier Family
Order samples: THAT Sample Request
Order demo boards: THAT Demonstration Boards

About THAT Corporation
THAT Corporation, founded in 1989, designs and sells high-performance analog integrated circuits for professional audio manufacturers. THAT's ICs include analog input and output stages, digitally controlled low-noise preamplifiers, Analog Engines® and its original line of voltage-controlled amplifiers (VCAs) – all used throughout the pro audio industry. The company also licenses patents, trademarks, and other intellectual property to the TV broadcast and reception industries. Licensed products include the dbx-tv® Total™ series of audio enhancement technology and digital implementations of legacy TV audio receiver standards. The company is headquartered in Milford, Massachusetts, with offices in Milpitas, California.
For more information, contact:
THAT Corporation, 45 Sumner Street, Milford, MA 01757-1656 , USA
Telephone: +1 (508) 478-9200; Fax +1 (508) 478-0990
Email: More Information
Editorial Contact:
Ken Nevard, IC Marketing Manager
Tel: +1 (508) 478-9200 x108
Email: Editorial Contact