THAT Corporation Appoints New IC Sales Manager
Denis Labrecque to Lead IC Sales Organization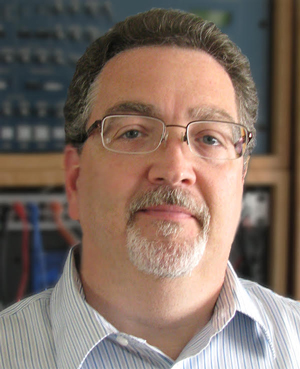 Milford, Mass., Aug. 25, 2020 – THAT Corporation, a leading provider of high-quality audio integrated circuits (ICs), today announced the appointment of industry veteran Denis Labrecque as IC Sales Manager. In this role, Denis will lead THAT's global IC Sales organization, as well as manage THAT's worldwide network of IC distributors and representatives.
"Denis has had a long career in audio and ICs", said Les Tyler, THAT's President. "He is passionate about audio in general, and pro audio in particular. Here at THAT, Denis will apply his depth of understanding and experience in IC sales and marketing to a market that he understands very well."
For the past five years, Denis has managed his own business, DeLab Consulting, where he's helped many pro audio companies grow their sales and markets as well as assist in defining their products. Before that, he served 15 years as the Business Development Manager for pro audio in the DSP division at Analog Devices. Denis has also held marketing and sales management positions (including VP Sales/Marketing) at Staccato Systems, Emu Systems, and Passport Designs.
"I'm really excited to be a part of THAT Corporation. THAT produces outstanding products and is filled with exceptional people." said Denis Labrecque. "I eagerly anticipate working with my sales team to expand our precision audio technology sales to the industry and beyond."
Denis attended The University of Connecticut where he studied Electrical and Electronics Engineering and has an Associate Degree in Music / Electronic Music from Manchester Community College. He has taught a number of courses in Music Synthesis, MIDI and Electronic Music and has been involved with music production both live and in the studio. Denis resides in Half Moon Bay California and enjoys creating electronic music.

About THAT Corporation
THAT Corporation, founded in 1989, designs and sells high-performance analog integrated circuits for professional audio manufacturers. THAT's ICs include analog input and output stages, digitally controlled low-noise preamplifiers, Analog Engines® and its original line of voltage-controlled amplifiers (VCAs) – all used throughout the pro audio industry. The company also licenses patents, trademarks, and other intellectual property to the TV broadcast and reception industries. Licensed products include the dbx-tv® Total™ series of audio enhancement technology and digital implementations of legacy TV audio receiver standards. The company is headquartered in Milford, Massachusetts, with offices in Milpitas, California.
For more information, contact:
THAT Corporation, 45 Sumner Street, Milford, MA 01757-1656 , USA
Telephone: +1 (508) 478-9200; Fax +1 (508) 478-0990
Email: More Information
Editorial Contact:
Ken Nevard, IC Marketing Manager
Tel: +1 (508) 478-9200 x108
Email: Editorial Contact