THAT Corporation Appoints Mitsuiwa as New Distributor in Japan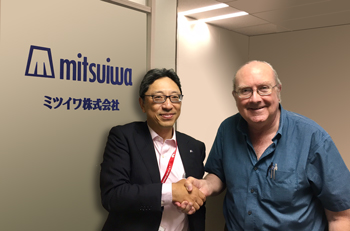 Milford, Mass. – THAT Corporation, a leading provider of high-quality Integrated Circuits (ICs) for professional audio, has appointed Mitsuiwa Corporation to distribute THAT's ICs in Japan. Headquartered in Shibuya, Tokyo, and with 31 offices throughout Japan, Mitsuiwa focuses on Information and Communication Technology services and components. Mitsuiwa's customers include a wide range of Japan's electronics manufacturers, including many of the best-known audio companies.
"THAT Corporation's highly regarded ICs add strength to our portfolio," said Hiroyuki Suzuki, Executive Officer of Mitsuiwa's Device Solutions Division. "THAT's focus on professional audio will help us expand our complementary products in this market segment, while increasing THAT's penetration within Japan's world-famous pro audio companies."
"Our latest IC products, especially, have resonated with several Japanese customers," said Marv Hahn, THAT Corporation's IC Sales Manager. "We're excited that Mitsuiwa will help us broaden our reach and ensure that we cover the entire market in Japan."
Les Tyler, THAT's President, added, "Mitsuiwa has the resources, relationships, and coverage to provide local support throughout Japan to customers new and old. Their customer-focused mindset is similar to our own. By building on our respective strengths and shared values, we will expand our respective businesses together." "
About Mitsuiwa
Mitsuiwa Corporation, founded in 1964, offers a range of Information and Communications Technology (ICT) services and electronic devices. With 31 offices throughout Japan, subsidiaries in Singapore and Myanmar, and an office in Shanghai, China, the privately held, ISO certified company is headquartered in Shibuya, Tokyo. For more information, visit www.mitsuiwa.co.jp
Editorial Contact, Mitsuiwa:
Shoichi Yasuda
E-mail: Mitsuiwa Japan
About THAT Corporation
THAT Corporation, founded in 1989, designs and sells high-performance analog integrated circuits for professional audio manufacturers. THAT's ICs include analog input and output stages, digitally controlled low-noise preamplifiers, Analog Engines® and its original line of voltage-controlled amplifiers (VCAs) – all used throughout the pro audio industry. The company also licenses patents, trademarks, and other intellectual property to the TV broadcast and reception industries. Licensed products include the dbx-tv® Total™ series of audio enhancement technology and digital implementations of legacy TV audio receiver standards. The company is headquartered in Milford, Massachusetts, with offices in Milpitas, California.
For more information, contact:
THAT Corporation, 45 Sumner Street, Milford, MA 01757-1656 , USA
Telephone: +1 (508) 478-9200; Fax +1 (508) 478-0990
Email: More Information
Editorial Contact:
Ken Nevard, IC Marketing Manager
Tel: +1 (508) 478-9200 x108
Email: Editorial Contact