THAT Corporation Announces Very Low-voltage, Low-power Analog Engine®
THAT4316 IC can be configured for a wide range of battery-operated audio applications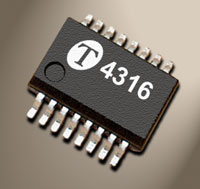 Milford, Mass. – THAT Corporation, a leading provider of high-performance audio Integrated Circuits, today announced its latest Analog Engine® dynamics processor: the THAT4316. Consuming under 4mW, the 4316 is optimized for very low-voltage, low-power operation, and runs from a single supply voltage as low as 2.7V. Like all Analog Engines, the IC includes a high-performance, exponential-responding voltage-controlled amplifier (VCA) and log-responding true RMS level sensor. The surface mount part is aimed at battery-operated audio applications such as companding noise reduction for wireless microphones and instruments, as well as compressors, limiters, and gates in effects pedals.
"The 4316 brings our flexible Analog Engine technology to new lows – in supply voltage, power, and cost," said Les Tyler, President of THAT Corporation. "This part will extend battery life in a wide range of companding and dynamics processor applications, while preserving the great sonic character we're known for."
Key Features of the 4316:
Exponentially controlled (dB-responding) VCA with dual-polarity control ports
Log-responding true-RMS signal level detector
Wide dynamic range: 115 dB as compander
Single power supply from 2.7V to 5.5V
Low supply current: 1.2 mA typ. (3.3V)
Internal Vcc/2 divider and buffer
Availability and Pricing
The 4316 is now available from THAT Corporation and its authorized distributors. Budgetary pricing for the 4316 is $1.41 (1k). THAT plans a demonstration board featuring a compressor application, and another for companding applications.
To learn more about THAT's Analog Engine ® family or to order 4316 samples, click here:
About THAT Corporation
THAT Corporation, founded in 1989, designs and sells high-performance analog integrated circuits for professional audio manufacturers. THAT's ICs include analog input and output stages, digitally controlled low-noise preamplifiers, Analog Engines® and its original line of voltage-controlled amplifiers (VCAs) – all used throughout the pro audio industry. The company also licenses patents, trademarks, and other intellectual property to the TV broadcast and reception industries. Licensed products include the dbx-tv® Total™ series of audio enhancement technology and digital implementations of legacy TV audio receiver standards. The company is headquartered in Milford, Massachusetts, with offices in Milpitas, California.
For more information, contact:
THAT Corporation, 45 Sumner Street, Milford, MA 01757-1656 , USA
Telephone: +1 (508) 478-9200; Fax +1 (508) 478-0990
Email: More Information
Editorial Contact:
Ken Nevard, IC Marketing Manager
Tel: +1 (508) 478-9200 x108
Email: Editorial Contact