Audio Precision & THAT Corporation to Co-sponsor AES Product Design Track
AES Design Discussion/Workshop Program Headed By AP & THAT Corporation at AES San Francisco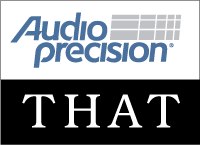 The Moscone Center, San Francisco – October 2012: Audio Precision, the recognized standard in audio test, together with audio IC manufacturer THAT Corporation, join forces as co-sponsors for the popular Product Design Track program of design-oriented workshops, tutorials, and discussion panels at the forthcoming 133rd Convention of the Audio Engineering Society, which takes place at the Moscone Center in San Francisco, October 26-29.
Since its initial launch in 2010, the Product Design Track has attracted admirers from near and far for its varied content. In addition to being co-sponsor, AP will present an Audio Industry Seminar entitled "Choose Wisely: Selecting the Right Audio Test Technique for the Job". Field Application Engineers Dan Foley, Christopher Gill and Jonathan Novick will discuss proper grounding technique before looking at the merits of different audio test approaches as they apply to high performance converters, acoustic transducers and devices handling encoded audio.
Tom Williams, VP of Sales and Marketing for Audio Precision comments: "It's important for companies like AP and our friends at THAT to support AES. Sponsoring the Design Track is the most meaningful way we can think of to show our support while at the same time promoting our corporate values of enabling continuous advancement in the art and science of audio design."
Gary Hebert, CTO of THAT Corporation, adds: "We are pleased and proud to help enable sharing of detailed design ideas along with an innovative company such as Audio Precision."
Workshops, discussion panels and seminars taking place during this year's Fall AES Convention will cover such diverse design topics as emerging audio technologies, spatial audio over headphones and signal processing fundamentals.
Gary Hebert and Joe Lemanski will also share their audio expertise for designers in their seminar, "Interfacing Digitally Controlled Microphone Preamplifiers to A/D Converters".
For a list of Product Design Track events taking place throughout the show, see: http://www.aes.org/events/133/productdesign/. Audio Precision representatives can be found at Booth #916 throughout the 133rd AES Convention. THAT Corporation can be found at Booth #929.
About Audio Precision
Audio Precision is the recognized standard in audio test. Since 1984, AP has offered high performance audio analyzer instruments and applications to help engineers worldwide design and manufacture all types of consumer, professional and industrial audio products. For more information, visit http://ap.com/.
About THAT Corporation
THAT Corporation, founded in 1989, designs and sells high-performance analog integrated circuits for professional audio manufacturers. THAT's ICs include analog input and output stages, digitally controlled low-noise preamplifiers, Analog Engines® and its original line of voltage-controlled amplifiers (VCAs) – all used throughout the pro audio industry. The company also licenses patents, trademarks, and other intellectual property to the TV broadcast and reception industries. Licensed products include the dbx-tv® Total™ series of audio enhancement technology and digital implementations of legacy TV audio receiver standards. The company is headquartered in Milford, Massachusetts, with offices in Milpitas, California.
For more information, contact:
THAT Corporation, 45 Sumner Street, Milford, MA 01757-1656 , USA
Telephone: +1 (508) 478-9200; Fax +1 (508) 478-0990
Email: More Information
Editorial Contact:
Ken Nevard, IC Marketing Manager
Tel: +1 (508) 478-9200 x108
Email: Editorial Contact