THAT Corporation's mission is to provide best-in-class technology solutions to design engineers in the form of analog integrated circuits or as licensed TV-audio intellectual property. We accomplish this through a combination of careful, innovative designs, quality-conscious manufacturing and superior customer service.
The company is headquartered in Massachusetts, with offices in Tokyo and Silicon Valley, and is best known for its line of integrated circuit voltage controlled amplifiers (VCAs) used throughout the professional audio industry.
The company was founded in April of 1989 by senior managers and engineers from dbx, Inc., the world-renowned audio engineering company whose developments included the first high-performance integrated VCA, Emmy-award winning BTSC dbx-tv Noise Reduction technology, and the first integrated 20-bit analog-to-digital converter. The founders and others within the senior management team participated in these accomplishments, and have made this heritage of innovation and engineering excellence an integral part of THAT Corporation's philosophy and culture.
Originally formed through a management buyout of the dbx OEM (Original Equipment Manufacturer) division, it has expanded the range of its products and services to include these distinct categories:
Integrated Circuits      dbx-tv® Audio Licensing    Foundry Services
THAT Corporation is concentrating its current design efforts specifically on analog audio input and output ICs to complement our voltage controlled amplifiers, rms detectors and Analog Engines. These components are designed to be manufactured using "dielectric isolation" (DI) fabrication, an advanced process technology that provides higher device-to-device breakdown voltages, better isolation between individual transistors, and faster speeds. THAT's requirements in this area, coupled with the company's desire to control quality, time to market, and the underlying process variables in all phases of its IC production, led to the acquisition of its own semiconductor fabrication facility.This four-inch wafer foundry gives THAT Corporation the only IC production facility focused primarily on high-performance audio components. The fab and its associated offices in Milpitas, California give THAT a strong presence in Silicon Valley and the West Coast in general, where many of its major customers are located.
THAT Corporation holds an extensive patent portfolio in TV audio technology, including key patents covering noise reduction technology for use in TV audio broadcast and reception. The company derives significant income from the licensing of this technology to consumer electronics and IC manufacturers of encoders and decoders worldwide, including those in the Pacific Rim, and has an office in Tokyo, Japan to manage its business in that region. THAT licenses digital Verilog® code for all legacy TV audio standards: BTSC, NICAM, A2, EIA-J and FM Stereo, including professional- and consumer-grade encoding and decoding technology for many of these systems. Our licenses include access to our extensive patent portfolio, as well as state-of-the-art lab facilities.
THAT Corporation maintains a focus on high-quality engineering for audio electronics. Through its integrated circuit products, the company contributes to the welfare and knowledge base of the entire pro audio community. We are an active participant in audio industry activities. THAT Corporation continues to provide the best of integrated and licensed electronics to leading professional audio and industrial manufacturers worldwide.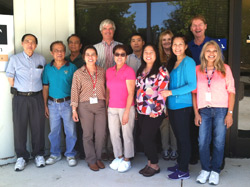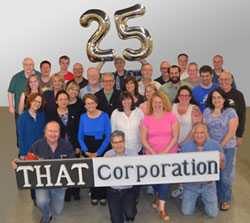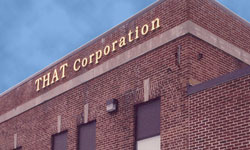 THAT Corporation exhibits at selected professional audio, broadcasting, and music industry-related tradeshows where we unveil new technologies, demonstrate new products, discuss applications and distribute samples as well as our latest product literature.
THAT representatives attend many industry trade shows in order to connect with customers and suppliers and keep abreast of business and technological changes. Listed below are tradeshows that we typically attend. If you would like to schedule a meeting with one of our staff at a particular show please contact us.
Musikmesse / Prolight & Sound April, 2019; Frankfurt am Main, Frankfurt, Germany Distributor: Profusion PLC
We currently have the following employment opportunities:
General Information:
Telephone: +1 (508) 478-9200
Fax: +1 (508) 478-0990
E-mail: General Information
Mailing address:
45 Sumner Street
Milford, MA 01757-1656 USA
Press Contact:
Marketing Manager: Ken Nevard
Tel: +1 (508) 478-9200 ext 108
E-mail: Press Contact
IC Sales:
Telephone: +1 (508) 634-9922
Fax: +1 (508) 634-6698
E-mail: IC Sales
IC Technical Support:
Tech Support
To THAT Corporation, Milford, MA
To THAT Corporation, Milpitas, CA
Join our mailing list and you'll receive the latest information from THAT Corporation including new product releases, updates to existing products, and new design notes to help you implement our ICs. Your name and email address with not be divulged to any other party and if, at any time, you wish to opt out we will remove you from our database without delay. So go ahead and sign up and be in the know.
[newsletter]
De-Integrating Integrated Circuit Preamps (1,422k) by Les Tyler, President, THAT Corporation Presented at the 131st AES Convention For many years, IC suppliers — including THAT…